Italian Baja 2009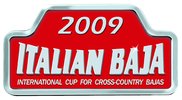 Once more this year, Sporttraxx will supply the Live Tracking service at the Italian Baja. For the fourth time the competitors will rely on the safety of a technology that is going to follow them real online. The 2009 version of the GPRS Traxxer is actually the smallest and thoughest device that can send positioning data and alarms in rallying. The position updated every 5 seconds and nw graphics, are just a few of the new features. For more technical details and the installation requirements, please refer to the here attached documents. For the fans, the girlfriends and the buddies, the race can be followed live on internet from the dedicated link.
Terms and conditions
Latest dates
Order form sending: 13 March 2009
Traxxer return date: 22 March 2009
Registration
In a few easy steps you will register yourself and generate the correct order form for requesting your compulsory GPS Live Tracking Device for this event. Please fill correctly all the fields and print the order.